Masters of Bass
The concert "Masters of Bass" on 26.10.2019, 8 pm at Mühldorfer Haberkasten is the highlight of the Bavarian Bassdays, which again this year shows the bass in all its unbelievable facets. The concert begins traditionally with the Big Bass Ensemble of the Bassdays, which brings the hall to a shudder with over 50 double-and e-basses.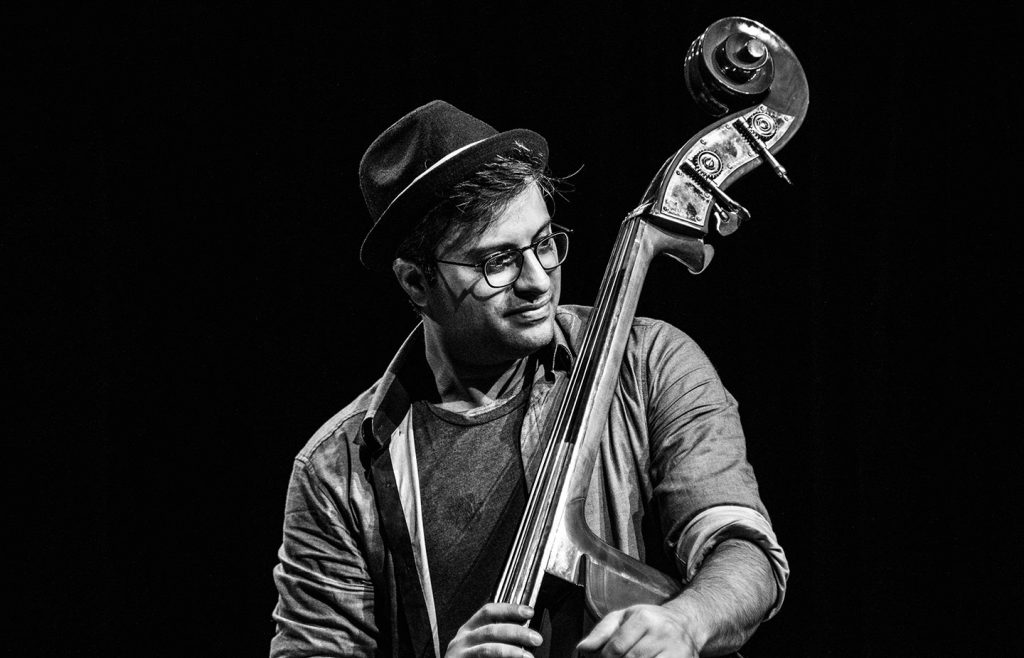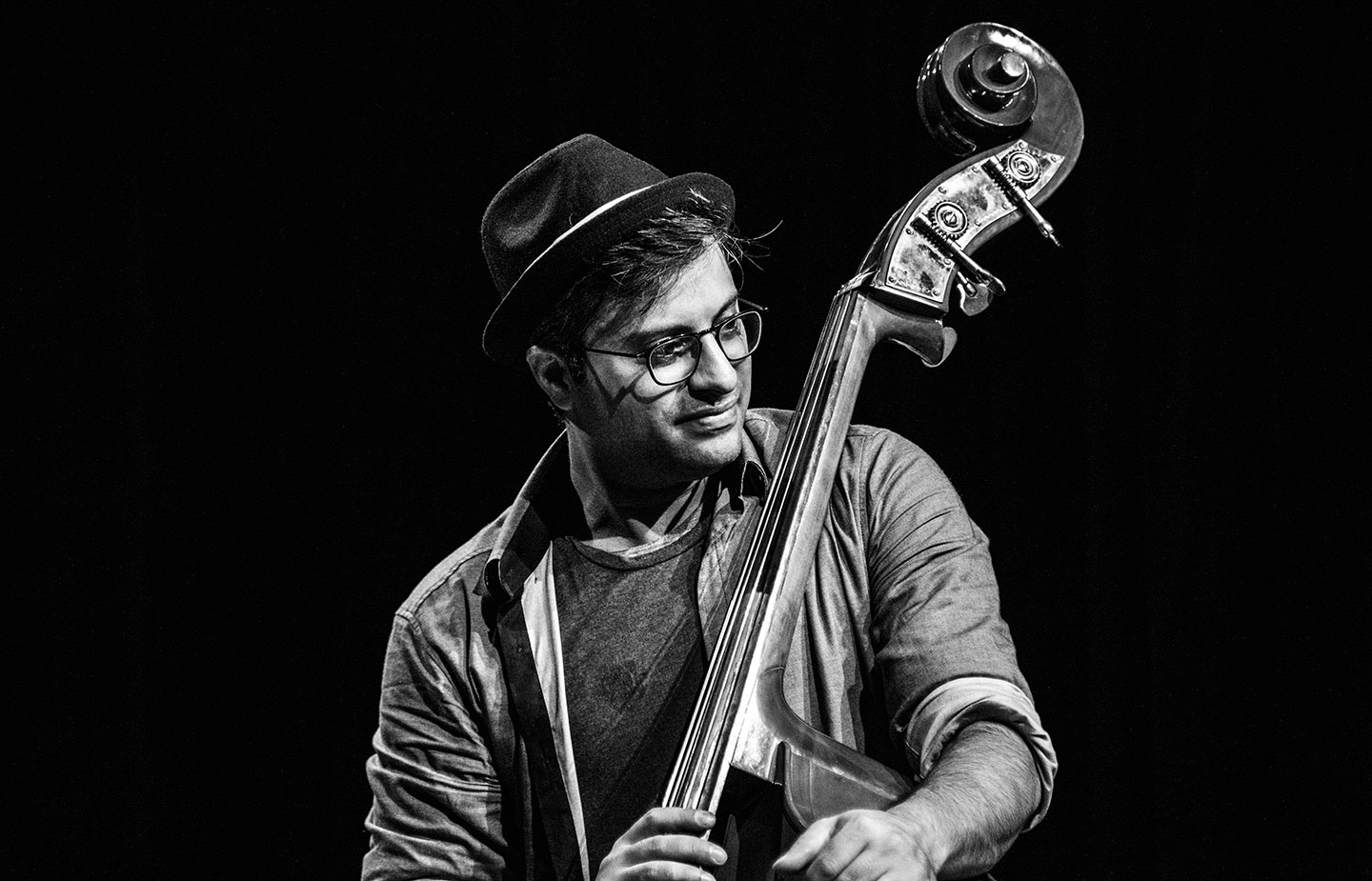 Adam Ben Ezra
Double-Bass phenomenon, multi-instrumentalist and online sensation Adam Ben Ezra; a man seemingly on a mission to bring his instrument from its status as a background note to the dominant front-presence it deserves. For the past few years Adam has been pushing his craft in new, exciting directions and carving out a unique spot for himself in today's international musical landscape, with both his virtuosity and musicianship earning him great success along the way.
With tens of millions of hits on his video clips and a strong following on all social media platforms, it is clear Adam is a bonafide internet star. However, his success is certainly not limited to the web, having performed around the globe in major international music festivals and shared stages with some of the world's fusion giants – including Pat Metheny, Victor Wooten and Richard Bona – over the last few years. His work has been shown at industry leading publications, such as the BBC, CBS News, Time Magazine and The British Telegraph to name but a few. Jazz FM has defined his appearance as "a dazzling virtuosity and breath-taking athletic performance".
The term "multi-instrumentalist" is often overused but in this case it couldn't be more fitting; Adam began playing the violin at age five and picked up the guitar at age nine. Over the years he has added the Piano, Clarinet, Oud, Side Flute and even BeatBox to his arsenal, largely teaching himself each time. However, it was an introduction to the Double-Bass at age 16 that truly changed his life, when he instantly fell in love with the instrument's rich sound.
Drawing inspiration from heroes as diverse as Bach, Sting, Bobby McFerrin and Chick Corea, Adam made a clear decision to make his compositions current – no matter the tool used. He has consciously added new colors to his palette, incorporating elements of Jazz, Latin and Mediterranean music into his playing.
Whether he is playing original material or his wonderfully crafted cover arrangements, ABE is a creative force of nature who can transform a room full of strangers into lifelong fans in a moment. Regardless if he's performing solo, duo or as part of his Trio with guitar and percussion, no two shows are alike as he expertly moves from one instrument to the next, sometimes within the same song, without ever missing a beat. Using a smart combination of effects and pedals, Adam regularly loops his notes in order to deliver an authentic wall of sound, worthy of a small orchestra. With a rise in requests for international appearances and a need to push his instrument further, Adam commissioned a special one-of-a-kind 5 strings bass with an unusual removable neck setup.
Both his Trio album (Can't Stop Running, 2015) and latest Solo album (Pin Drop, 2017) showcase not just a virtuoso performer but also a sensitive composer with no musical boundaries, combining elements of jazz, rock and world music to create a sweeping, fascinating and versatile sound.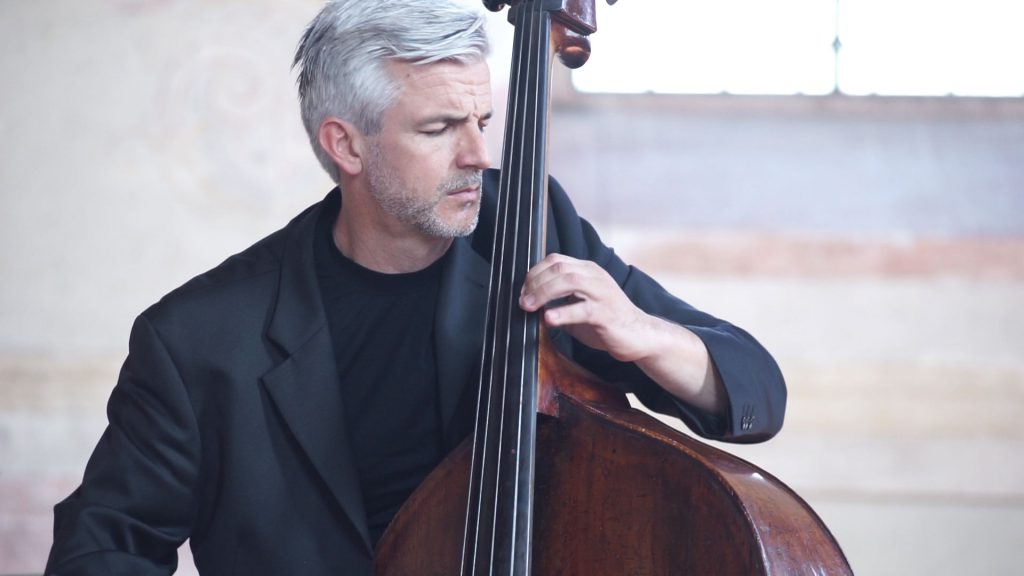 Prof. Božo Paradžik
Božo Paradžik began learning the double bass in 1983 with Tihomir Vidović in Sarajevo and between 1987 and 1992 studied with Jiří Hudec at the Academy of Music in Prague.
After his studies Božo Paradžik began his successful career as an orchestral musician. He held principal positions with leading symphony orchestras such as the Residentie Orchestra in the Hague and the Radio Symphony Orchestra in Stuttgart. In addition to this he often played with the Royal Concertgebouw Orchestra in Amsterdam and as principal double bassist with the Bavarian Radio Symphony Orchestra in Munich. In the course of his orchestral career he played often under conductors such as Georges Prêtre, Yevgeny Svetlanov, Neville Marriner, Guiseppe Sinopoli, Gennady Rozhdestvensky, Carlo Maria Giulini and Franz Welser-Möst. On invitation by Claudio Abbado Božo Paradžik has played as principal double bassist in most of M° Abbado's orchestral projects in 2008 and 2009 with Orchestra Mozart and Mahler Chamber Orchestra.
Today Božo Paradžik places more emphasis on his solo and chamber music activities. The release of his first solo CD with the pianist Ulrich Rademacher in 2000 made Božo Paradžik well-known as a soloist throughout the world. This was the first solo double bass CD ever to appear on the famous EMI / Virgin Classics label. As a soloist and chamber musician he has appeared in many famous concert halls in Europe. The internet videos on Božo Paradžik's YouTube channel have been clicked more than two million times.
In recent years Božo Paradžik has dedicated his time to recording his repertoire. Many projects have been recorded using modern surround sound technology and will be released in the near future.
In addition to the solo double bass repertoire Božo Paradžik has had sensational success performing works which were originally composed for other instruments. In 2000 he performed the second cello part of Schubert's String Quintet in C with the Apos Quartet in the Berlin Philharmonie, and in 2005 the Cello Concerto in C major by Haydn with the Zagreb Philharmonic. By means of EBU/Eurovision this performance was broadcast live in 74 countries. Big acknowledgement was also gained by the CD released in 2012 "Double Bass Goes Beethoven Vol.1" with Beethoven's Cello Sonatas. Božo Paradžik's newest release of 2017 is a Super-Audio CD "Double Bass Goes Brahms" that includes three sonatas by Johannes Brahms recorded with pianist Maria Sofianska. This SACD is the first release in Paradžik's own production and was recorded in the state-of-the-art high resolution surround audio technology.
Božo Paradžik has a wide experience of public performance. First as an orchestral musician working with renowned conductors, and later as soloist and chamber music partner performing with the finest instrumentalists of our time. He enjoys passing this expertise on to the next generation. He began teaching in 2000 at the Konservatorium Jan Sweenlinck in Amsterdam and shortly afterwards became Professor at the Musikhochschule in Detmold (from 2001 to 2004). Since 2003 he is Professor for double bass at the Musikhochschule Freiburg (D). From 2009 to 2011 he also taught at the Conservatoire de Musique HEMU in Sion and since 2010 in his place of residence- Lucerne (CH), at the Hochschule Luzern-Musik. Božo Paradžik's teaching is internationally recognised and acknowledged specially by the accomplishments and successful careers of his students, who are winning the auditions in the top orchestras on the regular basis. His students have been the prize-winners of some of the  most important music competitions of our time. Božo Paradžik is regularly invited to give master classes at leading conservatories in Europe. These include Amsterdam, The Hague, London, Lyon, Manchester, Sion, and Paris.
Starting with the winner of the Swedish Grammy Awards Jonas Hellborg on electric bass and Prof. Christine Hoock on double bass, the concert series "Masters of Bass" represents a synthesis of classical music and a wide variety of modern styles at the highest level. During the last few years, artists as François Rabbath, Steve Bailey, Dan Styffe, The Bassmonsters, Philipp Stubenrauch, Kristin Korb, The Bassgang, Andres Martin, Adrian Maruszczyk, Bernhard Lackner, Andres Martin, Alberto Boccini, Szymon Marciniak, Andrew Lauer , Gjorgji Cincievsiki, Enrico Fagone, Robert Landfermann, Hagai Bilitzky, Henning Sieverts and Markus Setzer shook hands at the "Masters of Bass" concert. The concert series was singled out with several recordings and broadcasts by Bayerischer Rundfunk and other radio and TV stations as well as extremely positive ones Report of the Süddeutsche Zeitung. The musicians of the concert will, of course, teach as part of the diverse course program. The overall management of the Bavarian Basstage is Claus Freudenstein. Schirmherr is the passionate double bassist Marcel Huber – Member of the Bavarian State Parliament.