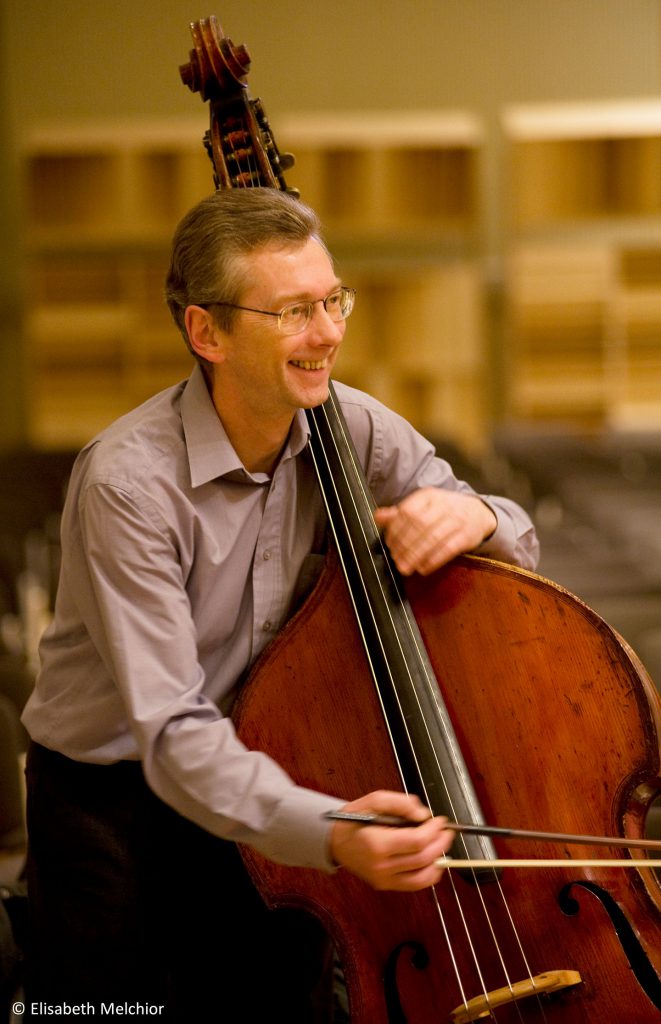 Winner of the 1982 Isle of Man International Double Bass Competition, Duncan McTier is recognised as one of the world's foremost double bass soloists and teachers. He has given in excess of 400 solo performances worldwide and inspired a host of superlatives from critics.
Duncan McTier has appeared as soloist in more than twenty countries, with many leading orchestras, including the Academy of St. Martin in the Fields, Royal Scottish National Orchestra, English and Scottish Chamber Orchestras, BBC Philharmonic Orchestra, RTVE Symphony Orchestra, Musikkollegium Winterthur and Lausanne Chamber Orchestras. He has made more than fifty solo recordings for radio, television and CD and his Tarantella CD, with pianist Kathron Sturrock, was described in The Strad as containing "some of the most refined bass playing you are ever likely to hear". Two more CDs, Capriccio and Sonata, were later released to much critical acclaim.
Born in Stourbridge, Worcestershire, Duncan McTier graduated from Bristol University with an Honours degree in Mathematical Sciences before joining the BBC Symphony Orchestra at the age of 20. Two years later he became principal bass of the Netherlands Chamber Orchestra, where he remained for seven years before returning to England to concentrate on a career as soloist, chamber musician and teacher. Composers who have written works especially for him include Sir Peter Maxwell Davies, Robin Holloway, John Casken, John Hawkins, Gavin Bryars and Derek Bourgeois.
Duncan McTier is a former Professor of Double Bass at the Royal Academy of Music in London and the Zürcher Hochschule der Künste and is currently Professor at the Escuela Superior de Música Reina Sofia in Madrid. He has given masterclasses all over the world and was for many years a member of the Nash Ensemble and the Fibonacci Sequence. Honours awarded him include Honorary Membership of the Royal Academy of Music and Fellowship of the Royal Northern College of Music.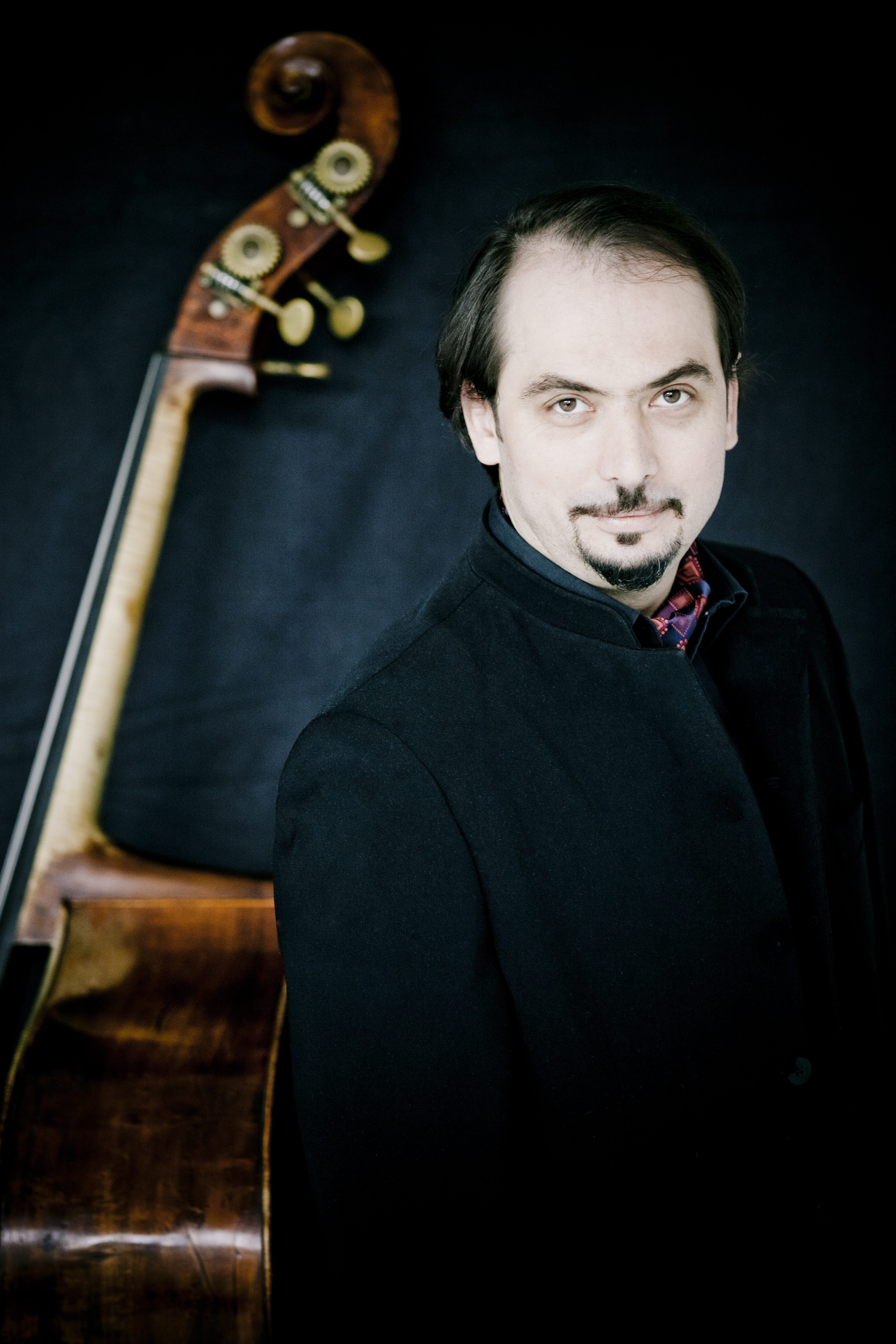 Petru Iuga currently holds a professorship at the University of Music and Arts in Mannheim, Germany and at the l'HEMU Lausanne , Switzerland. 
Having received his first training in his native Romania, he was selected by Yehudi Menuhin for the International Menuhin Music Academy in Gstaad (Switzerland).
After further training at the Hochschule der Kuenste-Bern and the Conservatoire National Superieur de Musique in Paris, he became a member of the Ensemble Orchestral de Paris and principal double bass in the Munich Chamber Orchestra.Petru was also guest solo Double-Bass at the London Symphony Orchestra.
He has won numerous prizes at international competitions, including first prizes at the International Double Bass Competition in Markneukirchen, Germany (1999) as well as at the Capbreton International Double Bass Competition in France (2001).
Petru Iuga has appeared as soloist with major European orchestras and in 2009 recorded a CD with the Carmina Quartet.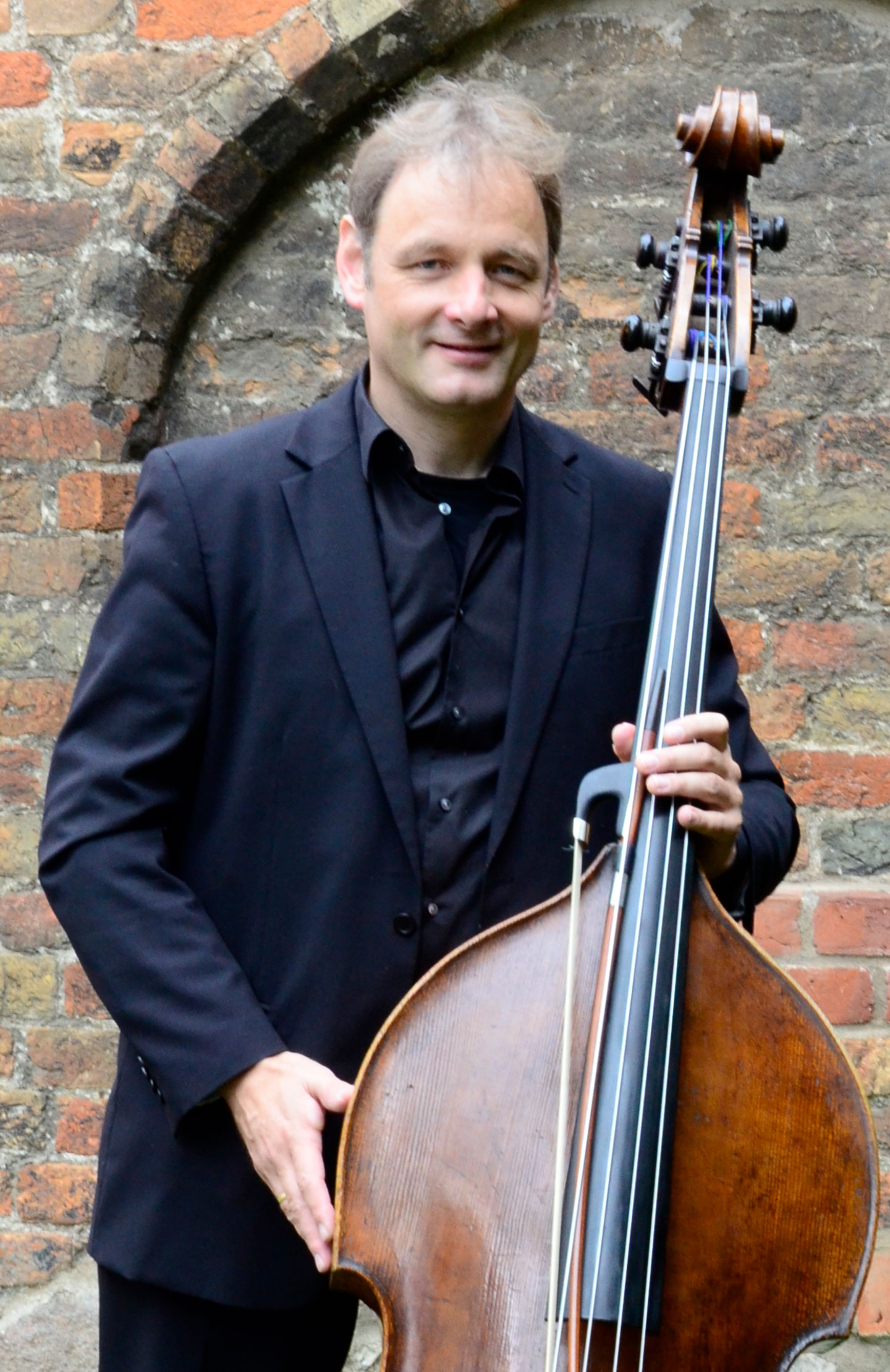 Frank Thoenes studied with Prof. R. Heister at the Folkwang University in Essen and on master classes with Prof. W. Güttler (Berliner Philharmoniker). Following his studies, he received a scholarship as a solo bassist at the Deutsche Kammerakademie Neuss under the direction of J. Goritzki. Since then he has been involved in numerous CD productions as well as solo and chamber music concerts. For example at the Festival Cervantino in Mexico, at festivals in Ascona and Salzburg, at the Pablo Casals Festival in Prades and at the Richard Strauß Festival in Garmisch. Some of his tours went to Australia, South America and Asia. He gained orchestral experience with the WDR Symphony Orchestra, the NDR Radiophilharmonie, the Hamburg State Orchestra, the Essen Philharmonic and has played among others with the conductors Claudio Abbado, Zubin Metha, Bernhard Haitink, Matthias Bamert and Michael Sanderling. He has been teaching at the Rostock University of Music and Theater since 2005. In 2019 he was awarded an honorary professorship. He is a solo double bass player with the North German Philharmonic in Rostock. He also gives master classes in Germany (double bass kaleidoscope) and abroad (China, Japan). After participating in the "International Days for New Music" in Darmstadt, where he was a fellow and also received an interpretation award, he became increasingly interested in new music. He premiered several works that composers dedicated to him, including Solo pieces by E. Janson, the concert "Aventure" by Bodo Reinke and the Sonata for double bass and piano by R. Leistner-Mayer, which was written for the Eccles Duo (Thoenes / Hoffmann). As a sought-after chamber musician, he plays with several ensembles, among others with the ensemble "Arabesque" (Hamburg / Berlin). The solo CD's "Tiefflug – Höhenflug" and "basswärts" are available from castigo.de, jpc or from Naxos.Frank Thoenes studierte bei Prof. R. Heister an der Folkwang Hochschule in Essen und bei Meisterkursen von Prof. W. Güttler (Berliner Philharmoniker).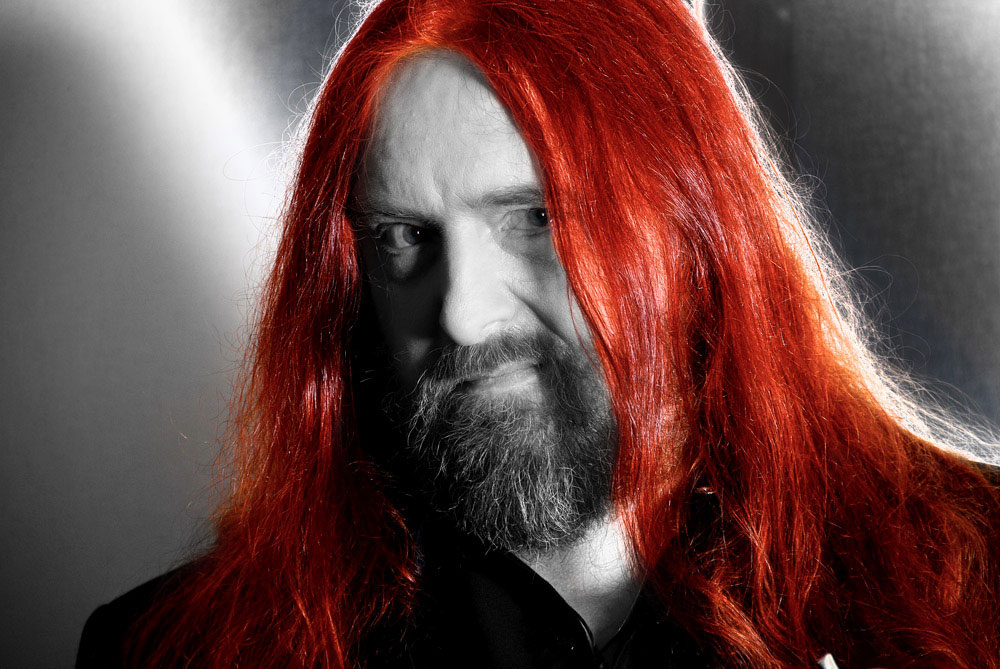 Peter Sonntag teaches electric bass and jazz double bass at the Bavarian Bassdays. Described by the rororo-Jazzlexikon as "musician of impressive virtuosity, technical brilliance and enormous imagination, who also created his own musical world full of magic", Peter Sonntag studied classical double bass (Prof. H. Albert) and new music (among others with Wolfgang Meyer -Tormin) at the Cologne University of Music. He works as a composer, producer, soloist, teacher, book author and endorser of international companies. His textbook "Basscraft" is one of the most successful German bass textbooks, which critics titled "A milestone among bass textbooks" (Bassprofessor) and "The Bible of All Bassists" (Nightflight). Concerts, tours, TV and radio appearances and engagements at international festivals have led him to to China, USA, Great Britain, Scandinavia, Hungary, Poland, Italy, France, Belgium, Netherlands, Austria, Switzerland.
… excerpt from the "Jazzpodium Magazin": "Peter Sonntag is the most complete bassist our Jazzwriter has listened to" (Hifi & Music, Sweden) – "… a modern Leonardo da Vinci" (Fachblatt Musik) – "… a voice that demands to be heard" (Milo Fine, USA). "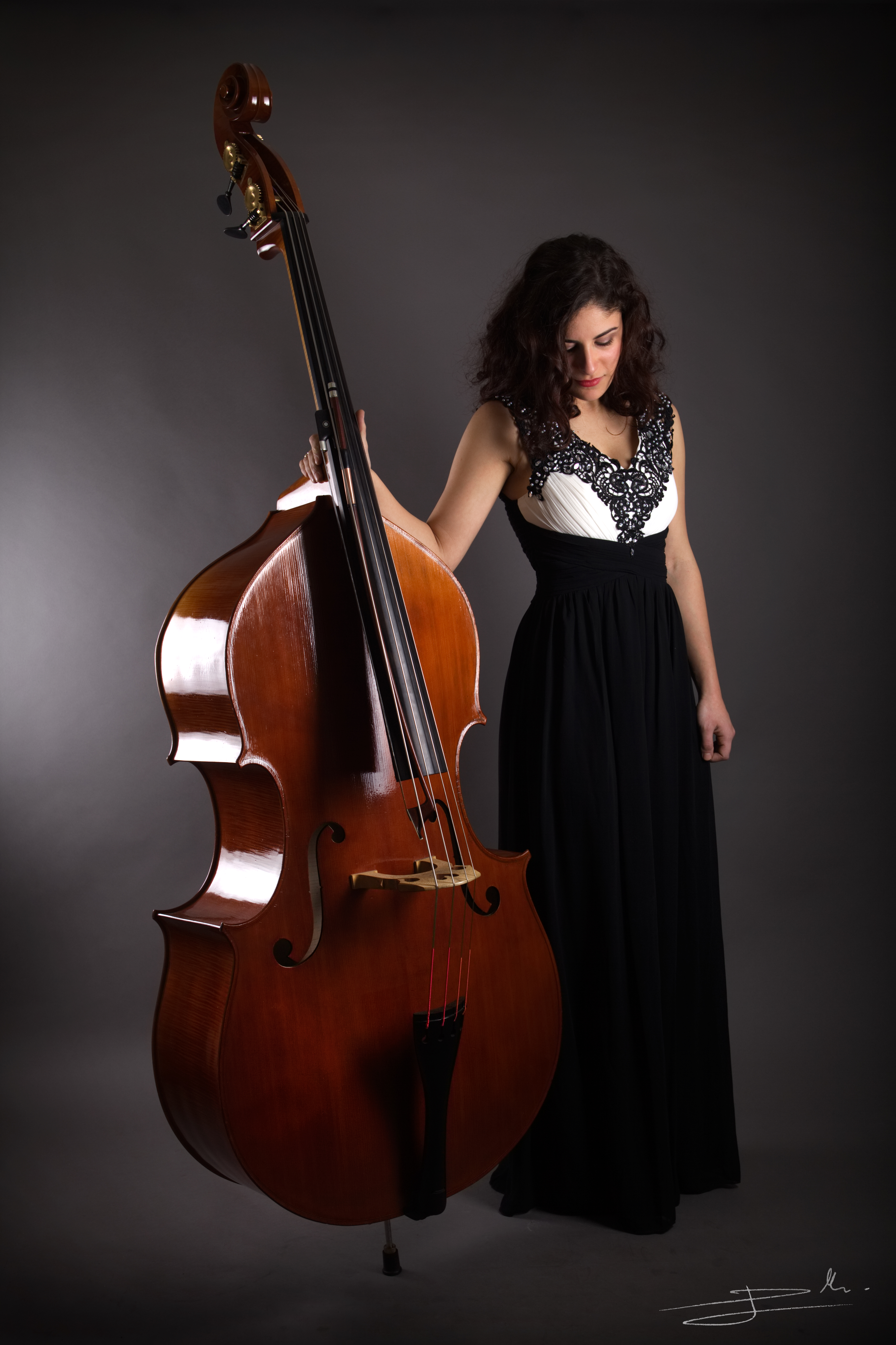 Lorraine discovered the double bass at the age of 5, and first learnt with Jean-Edmond Bacquet, before being accepted at the Paris CNSM in 2012, in Thierry Barbé's class. She received her Masters degree in 2016 and went on to study for one year with Petru Iuga at the University of Mannheim in Germany.
Alongside the double bass, Lorraine also studies the violin, firstly working with Suzanne Gessner at the Regional Conservatoire of Paris, before being accepted at the Paris CNSM where she continues to study with Jean-Marc Phillips.
Lorraine has been advised by musicians such as Eugene Levinson, Thomas Martin, Bozo Paradzik and Roland Pidoux, to name but a few. She regularly plays as a chamber musician in various festivals such as "le Festival de Pâques" in Deauville, "les Rencontres Musicales d'Evian", "Musique en Ré", "Festival du Périgord Noir", "Festival de Perros-Guirec" and "Les Folles Journées de Nantes", alongside artists such as the Trio Wanderer, Christophe Gaugué, Lise Berthaud, Sarah Nemtanu, François Salque, the Modigliani Quartet, Christophe Morin, Thierry Koehl, Yan Levionnois, the Messiaen Quartet and Marianne Piketty.
She has been awarded the first prize for both the Leopold Bellan International Competition and the International Double Bass Competition in Amsterdam, 2014. In 2017, she won both the Festival Prize and the Prize for best interpretation of a contemporary piece at the "Festival Musical d'Automne de Jeunes  Interprètes". Last year, she also won second prize at the International Giovanni Bottesini Competition.
Since 2015, she has been associate principal bass for the Orchestre Philharmonique de Radio France.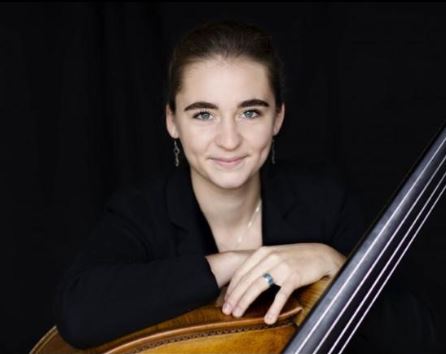 Valerie Schatz, born 1997 in Wasserburg am Inn got her first instrumental harp lessons at the age of 5. At the age of 11 she started to play double bass with her first teacher Dominik Billinger. From 2010 to 2012 she attended the music school in Mühldorf with Claus Freudenstein.
In 2012 Valerie Schatz started at the University of Music in Munich for two years with Professor Heinrich Braun and was at the same time already member of the Bavarian Youth Orchestra, the VBW Festival Orchestra of the Nations, and a permanent member of the Federal Youth Orchestra.
In 2013, she received the 1st Prize at the Jugend Musiziert competition for double bass and also the special Edgar Auer award. From 2014 the young double bass player was a permanent member of the student orchestra "Junge Deutsche Philharmonie".
Through various master classes with Prof. Johannes Auersperg, Prof. Günter Klaus and Prof. Duncan Mc Tier, Valerie Schatz was able to further train herself and to develop an extensive repertoire.
In 2015 she moved to the University of Music in Nuremberg in order to study with Professor Dorin Marc. The young instrumentalist had during this time various temporary appointments with the Munich Chamber Orchestra, the Munich Philharmonics and the State Theater of the Gärtnerplatz.
At the age of 19, Valerie Schatz received a scholarship from the Orchestra Academy of the Bavarian Radio Symphony Orchestra . She worked there for two years, participating in numerous symphony concerts, chamber orchestra performances and travelling with well-known conductors such as Mariss Jansons, Daniel Harding…
Her service at the Vienna State Opera started on January 1, 2019, together with temporary appointments with the Vienna Philharmonic Orchestra, allowing her also to travel extensively with both orchestras.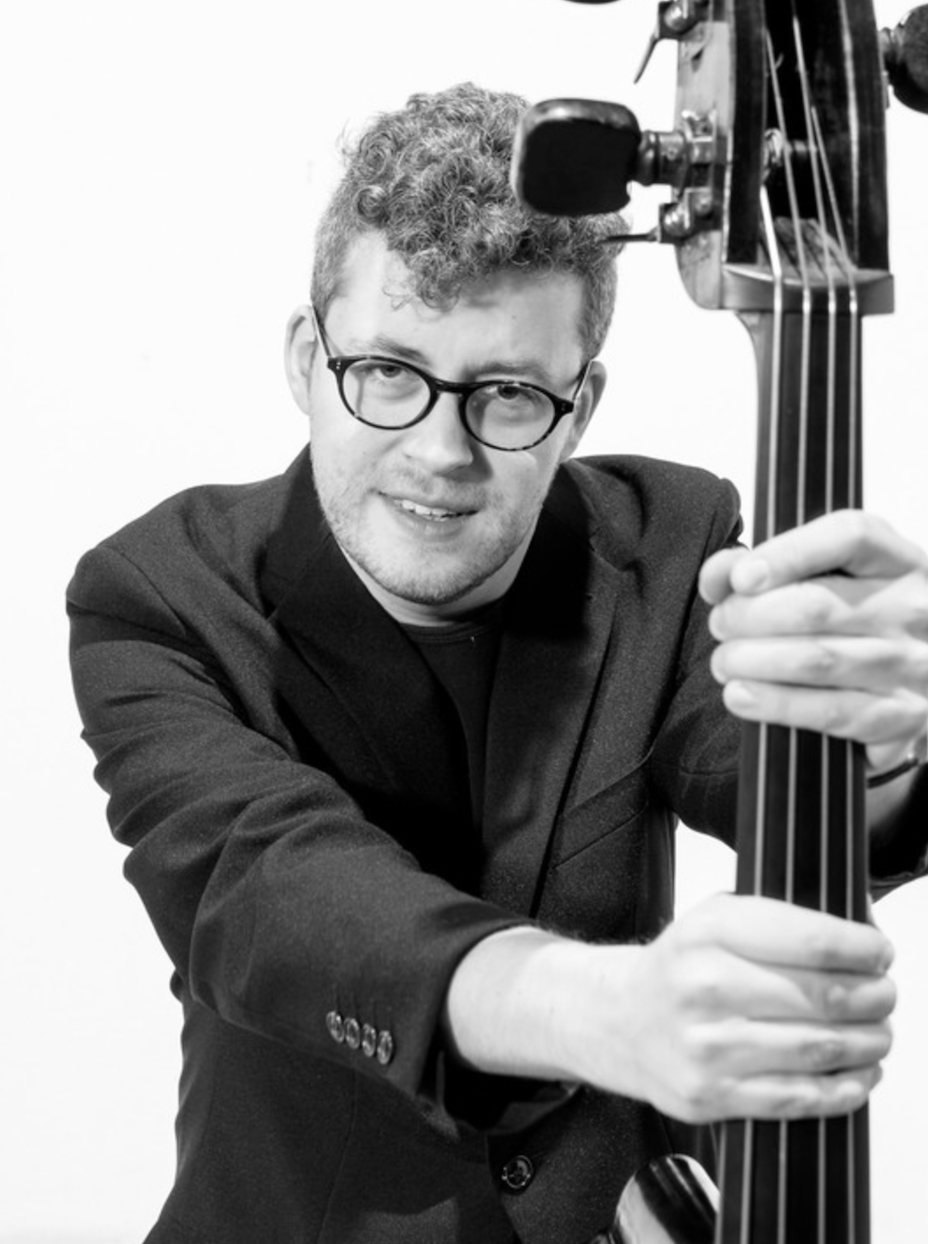 Thomas Hille was born in Deggendorf, Germany, in 1990. He was introduced to the world of music early on, and he began playing the piano at the age of five. In 2006, he discovered the double bass and, after just one year with the instrument, became a member of the Bavarian Youth Orchestra. At the time, he was attending the Hochschule für Musik und Theater (University of Music and Performing Arts) in Munich, where he had double bass lessons with Prof. Klaus Trumpf.
In 2009, he began studying under the tutelage of Prof. Dorin Marc in Nürnberg. Around the same time, he became a member of the Young German Philharmonic Orchestra. In 2012, Hille was runner-up at the Johann Matthias Sperger Double Bass Competition, where he also won the audience award and the award for the best interpretation of a Sperger sonata. 2014 saw him receive the Culture Award from his hometown. Hille has had solo concerts with renowned orchestras such as the Symphony Orchestra in Nuremberg, the Neue Lausitzer Philharmonie, and the Rheinische Philharmonie in Koblenz.
He graduated from the Nuremberg conservatory with honors and has had master classes with Božo Paradžik, Catalin Rotaru, and Yasunori Kawahara. Since 2013, Hille has performed in the Orchestra Academy and also as a member of the double bass section of the Munich Philharmonic Orchestra. He has also performed concerts for the Bavarian Radio Symphony Orchestra, the WDR Symphony Orchestra, and the Munich Symphonic Orchestra.
In 2016, he became the principal bass player at the Gärtnerplatz State Theatre in Munich. Since Summer 2016, he has gained experience with modern takes on chamber music as a member of the Bassmonsters.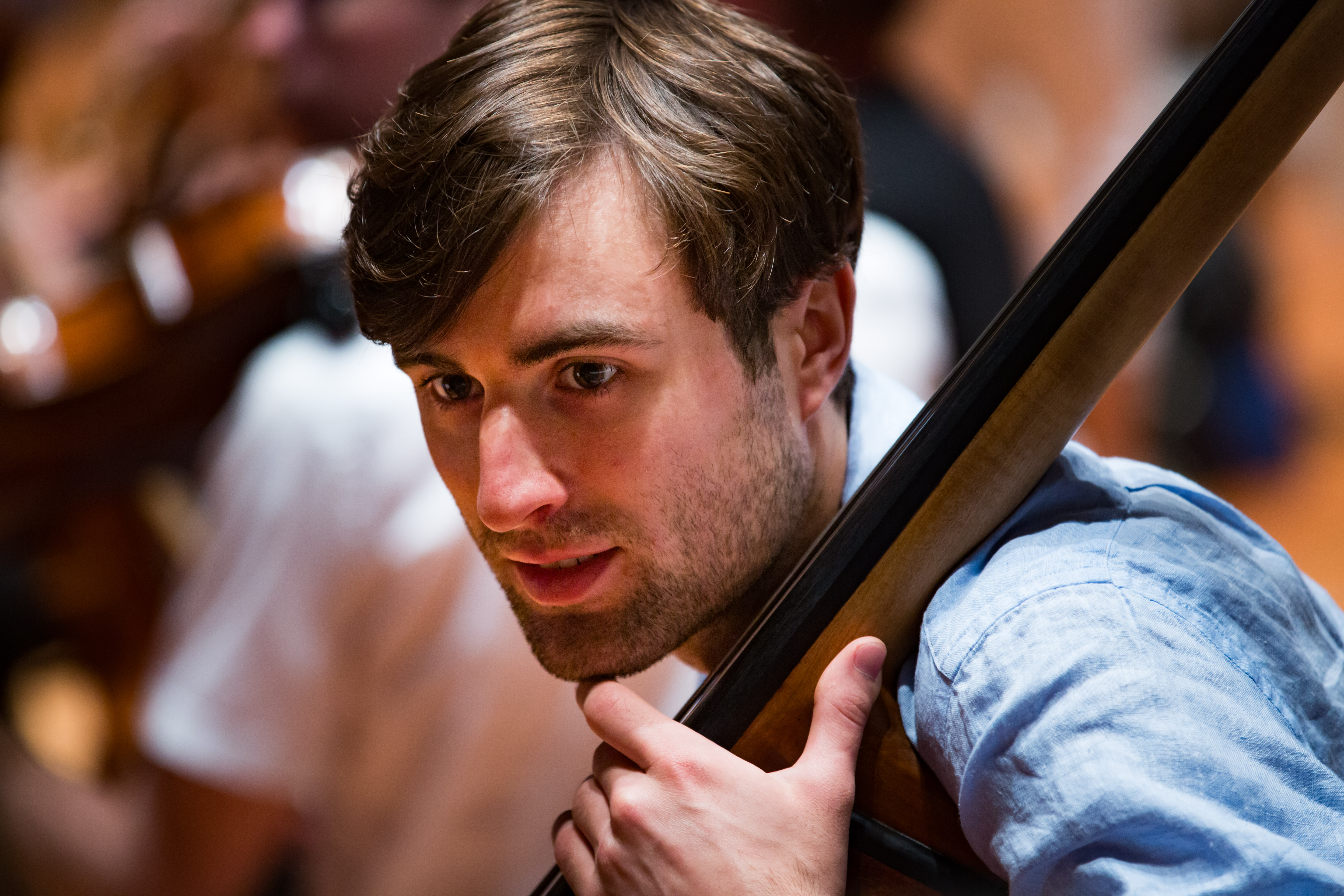 Dominik Luderschmid
Photo: Florian Ganslmeier
Dominik Luderschmid was born in Augsburg in 1986 and started playing the double bass at the age of 13. Before graduating from high school, he played in the Swabian, Bavarian and Federal Youth Orchestras as well as in the Bavarian State Youth Jazz Orchestra, was a national award winner for ›Jugend musiziert‹ and a young student at the Nuremberg / Augsburg University of Music.
He then studied at the Music Academy in Nuremberg with Prof. Dorin Marc classical and Rudolf Engel jazz double bass, was a member of the Junge Deutsche Philharmonie, was an academic with the Munich Philharmonic and regularly helped out in various orchestras.
After completing his classical studies, he moved to Amsterdam to complete his jazz studies at the music conservatory there. He then moved back to Munich, where he completed a master's degree with Prof. Heinrich Braun and became a member of the Munich Chamber Orchestra.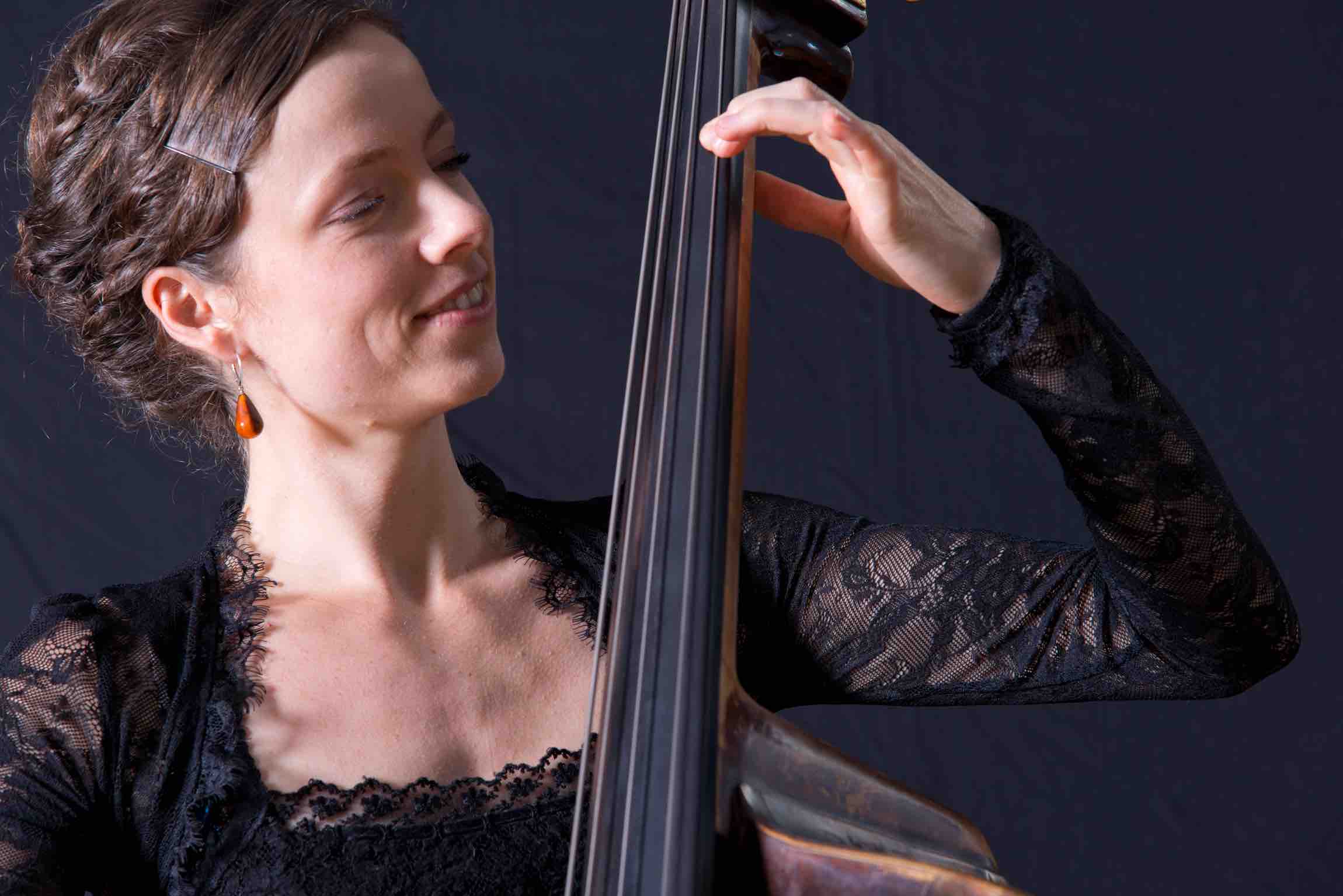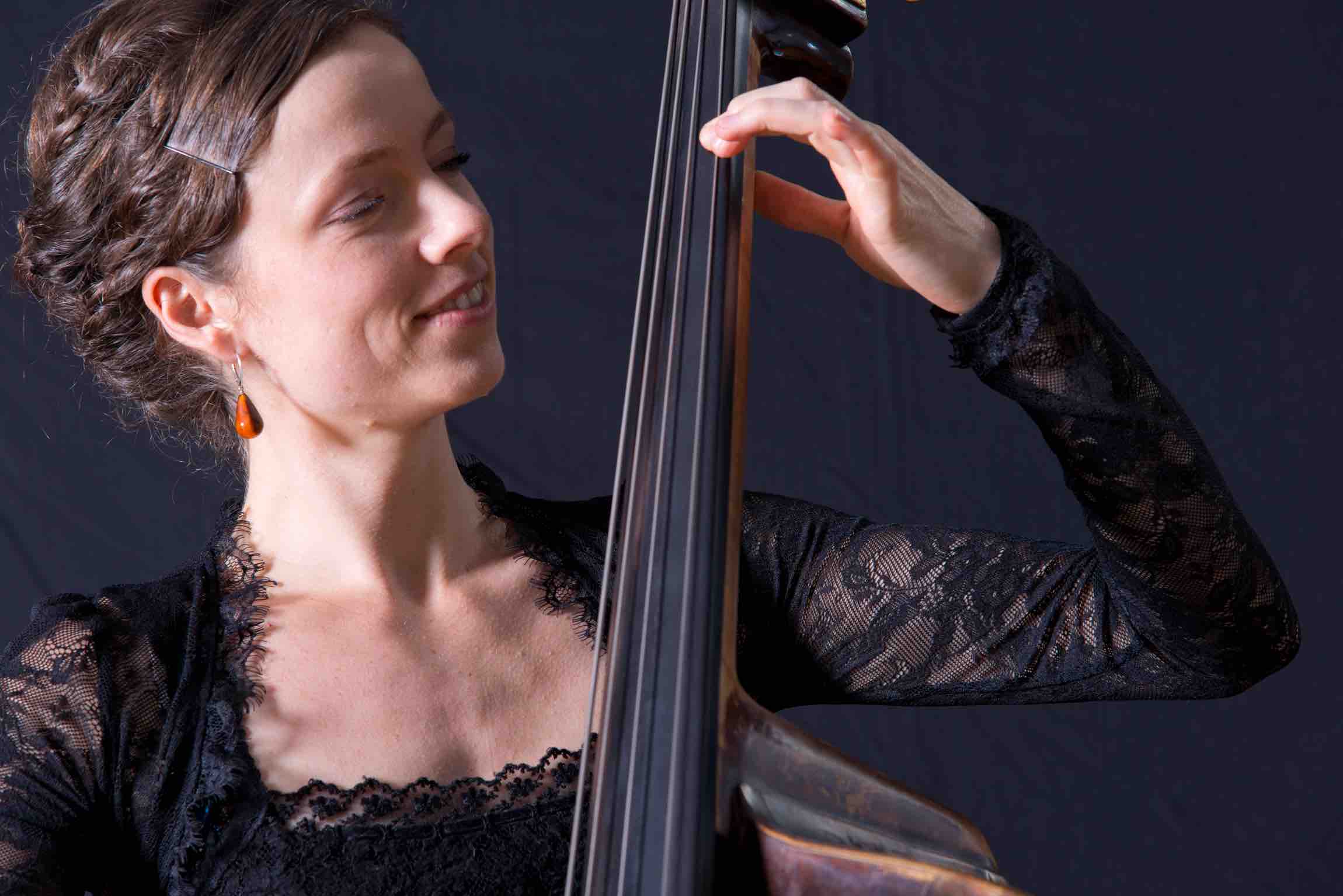 Elisabeth Forster was a student of Claus Freudenstein and studied with Prof. Mathias Weber and Nina Valcheva in Stuttgart. She completed her university education at the ZHdK Zurich with Prof. Duncan McTier with a Master of Arts in Music Performance (orchestra) and a Master of Arts in Music Pedagogy, which she completed in 2017 with honors.
As a musician, in addition to the modern orchestral repertoire, she particularly lives out her passion for chamber music and historical performance practice. As part of the ensemble academy of the Freiburg Baroque Orchestra and master classes in Stuttgart, she researched how to use gut strings with Love Persson. In Zurich she studied violin with David Sinclair.
Elisabeth Forster began her pedagogical training in Stuttgart with Song Choi, where she worked as a double bass tutor at the Stuttgart University of Music. In Zurich, she supplemented her pedagogical training under the supervision of Andreas Cincera. She has been teaching double bass since August 2014 and ear training since 2016 as part of the talent promotion program for the canton of Thurgau at the Weinfelden Music School (TG).
As a freelance double bass player, Elisabeth Forster performs regularly with Swiss orchestras and ensembles such as: Musikkollegium Winterthur, Camerata Bern, Swiss Orchestra, Bern Chamber Orchestra, Citylights Orchestra, Ensemble le buisson prospérant (Zurich / Bern), Accademia Barocca Lucernensis and the Chamber Orchestra i tempi (Basel) .