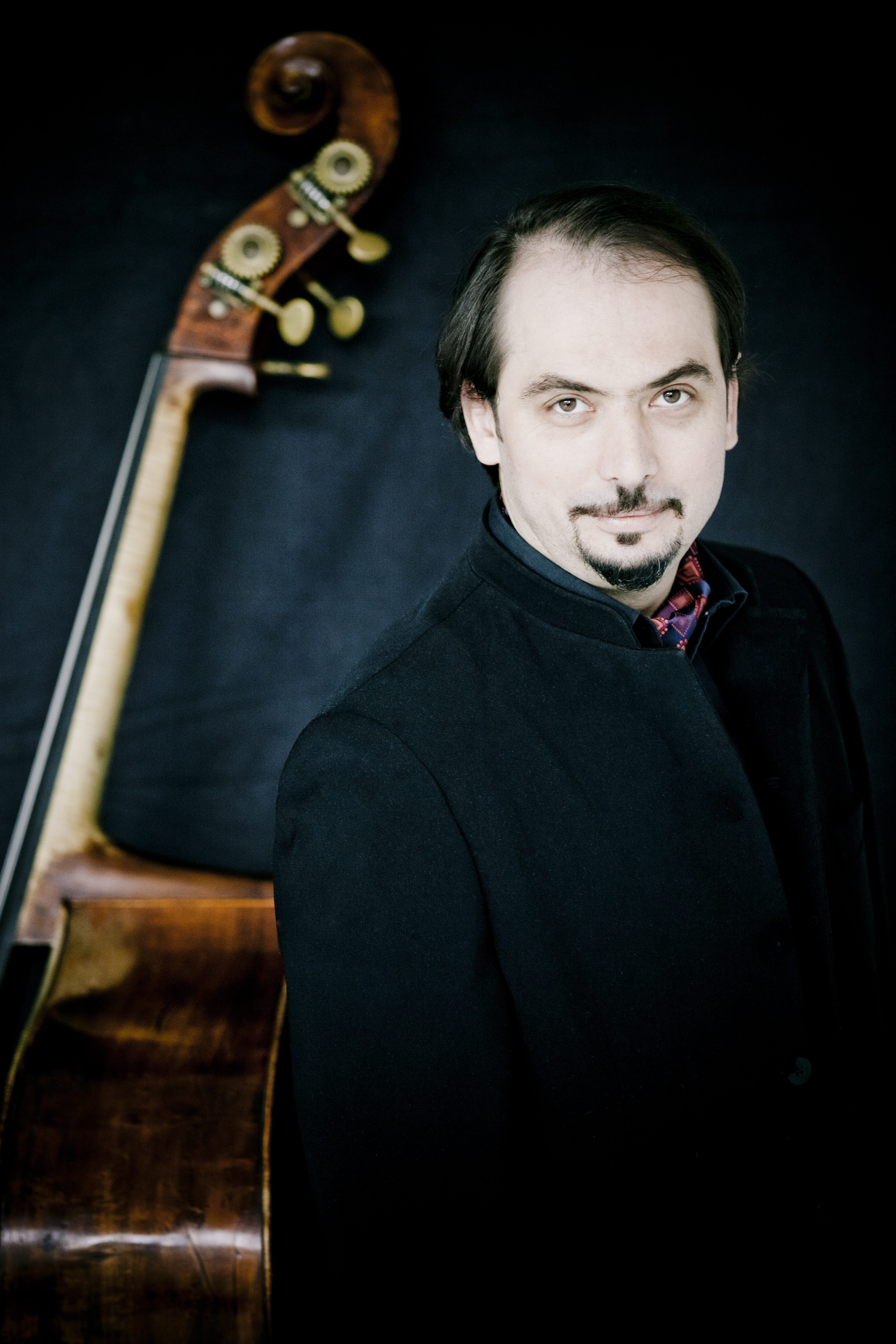 Petru Iuga currently holds a professorship at the University of Music and Arts in Mannheim, Germany and at the l'HEMU Lausanne, Switzerland. 
Having received his first training in his native Romania, he was selected by Yehudi Menuhin for the International Menuhin Music Academy in Gstaad (Switzerland).
After further training at the Hochschule der Kuenste-Bern and the Conservatoire National Superieur de Musique in Paris, he became a member of the Ensemble Orchestral de Paris and principal double bass in the Munich Chamber Orchestra. Petru was also guest Double bass Soloist at the London Symphony Orchestra.
He has won numerous prizes at international competitions, including first prizes at the International Double Bass Competition in Markneukirchen, Germany (1999) as well as at the Capbreton International Double Bass Competition in France (2001).
Petru Iuga has appeared as soloist with major European orchestras and in 2009 recorded a CD with the Carmina Quartet.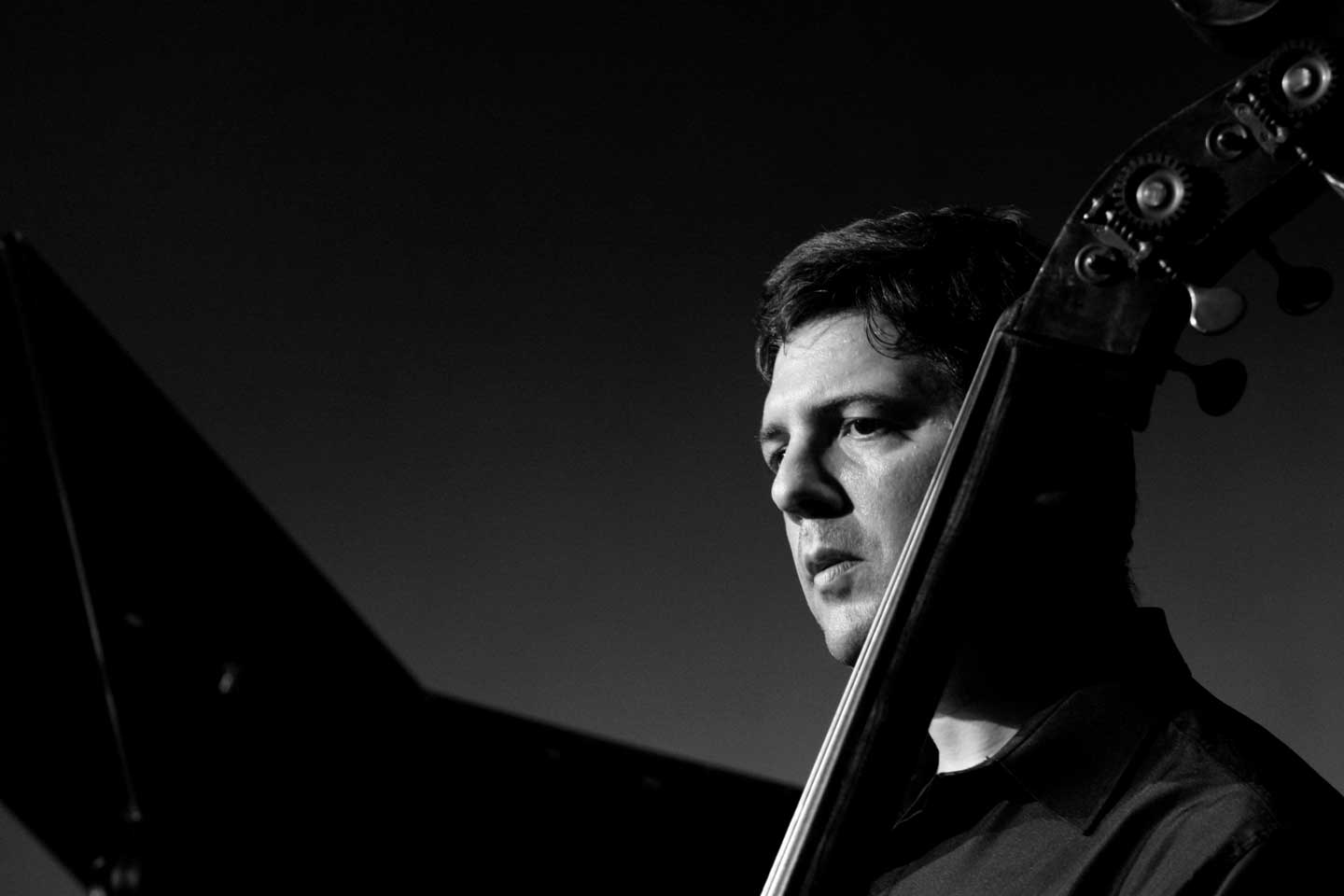 Juan Pablo Navarro is considered by peers and by critics as one of the most important artists playing double bass in Argentinian popular music. He was born in Avellaneda, Buenos Aires, in 1971. He earned his Double bass and Music Education degree at the "Conservatorio Provincial de Música Luis Gianneo". Later, he studied double bass with Sergio Gugliota, Ricardo Planas, Oscar Carnero and Anthony Bianco; music structure with Fermina Casanova and Marcelo Perticone; and music composition with Diego Schissi.
In 2000, he won the scholarship from the Antorchas Fundation, which allowed him to study at Carnegie Mellon University in Pittsburg, USA. There, he performed as Principal Bass at the Carnegie Mellon Philharmonic Orchestra, until April 2001. With this orchestra, he performed at Carnegie Hall. He also founded Tangocontempo, an association promoting new Tango Music.
J.P Navarro has recorded and performed with very prestigious tango, folk, jazz and classical artists such as Joe Lovano, Richard Galliano, Mtro Horacio Salgán, Leopoldo Federico, Néstor Marconi,,Diego Schissi qto., Chango Spasiuk, Ubaldo DeLio, and Quinteto Real, among others.
In 2011, he made presented a concert at The International Society of Bassists Convention (San Francisco State University, San Francisco, California), sharing the stage with gifted pianist Octavio Brunetti. In May 2013, he premiered Fantasía Contra Piazzollissimo, Music from Astor Piazzolla, arranged By JPN for Solo Bass and String Orchestra with Orquesta Sinfonica de Mar Del Plata,conducted By Mtro Emir.
He toured China with the Richard Galliano Quintet in November 2017. JPN performed Tangos de la Posverdad Tour with his Sextet (May 2019) in Europe. They played at Bozar, Bruxelles, De Doelen Theatre, Rotterdam, Le Triton, Paris, Festival Tango Fatal in Holland. He also taught Masterclass at Conservatoire de Gennevilliers, Paris, University of Arts Zurich, ISB convention at San Francisco University, CODARTS, Holland and many others.
His latest work, Los Dopados-La Música de Juan Carlos Cobian has been nominated for best live album of the year by the Carlos Gardel Awards.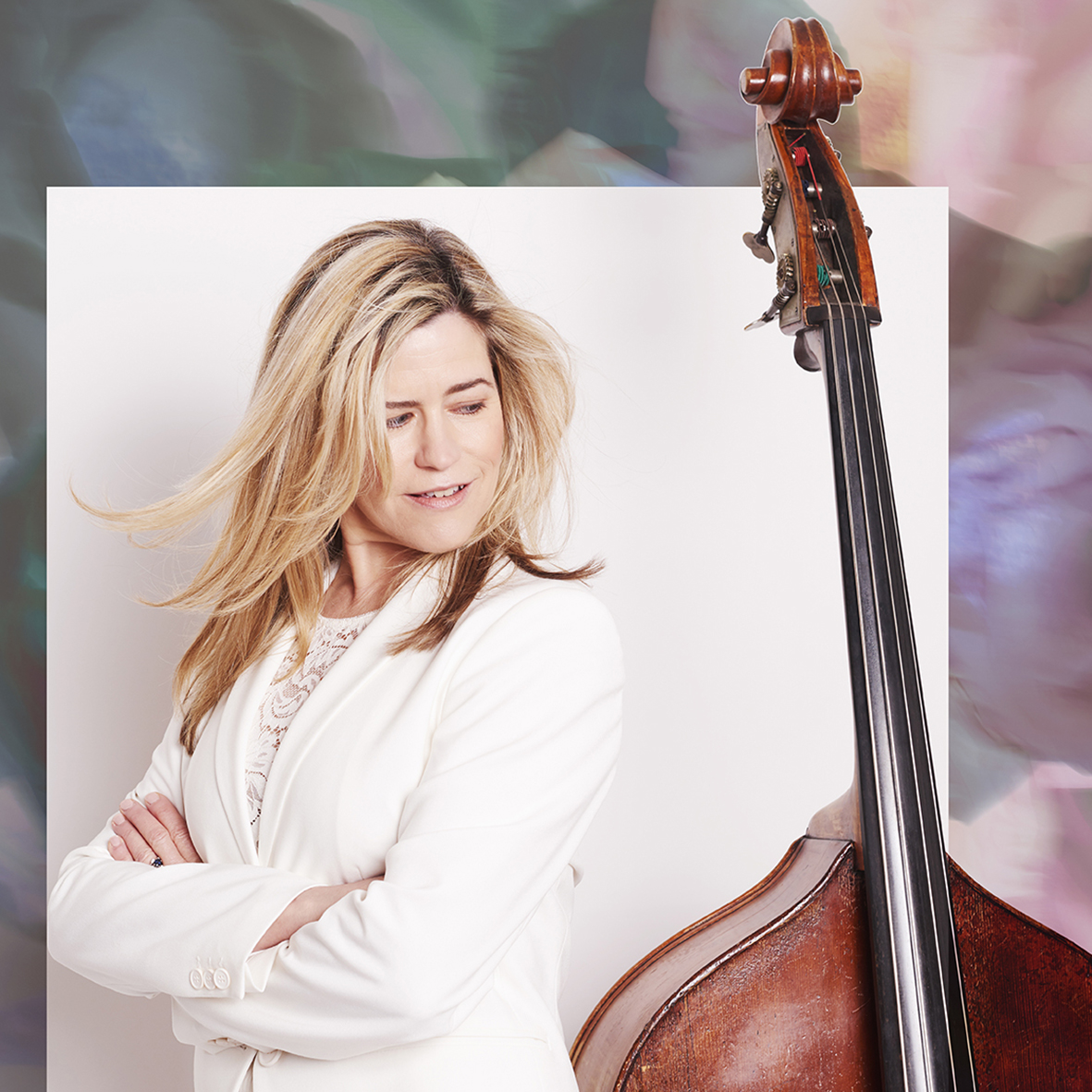 Known for her hard swinging bass lines and sparkling vocals, Kristin Korb has established herself on the jazz stage as an exceptional artist, commanding both instruments with panache, engaging them simultaneously with an ease comparable to breathing.
Korb earned her Music Education degree at Eastern Montana College and her masters in Classical Bass Performance the University of California, San Diego. It was while she was a student at UCSD that her professor, Bertram Turetzky inspired her to sing and play bass at the same time. She also studied with Ray Brown, with whom she made her recording debut, Introducing Kristin Korb with the Ray Brown Trio released in 1996.
She has taught at the University of Southern California where she was coordinator of vocal jazz studies, Azuza Pacific University (coordinator commercial voice studies), Grossmont Community College and Central Washington University (Director of Jazz Studies). Korb is still very involved in educational outreach and teaches at universities, jazz camps and festivals with young students.
As President of the International Society of Bassists, Korb was artistic director for the 2013 ISB Convention in Rochester, NY (Eastman School of Music).
Love brought Korb to Denmark in 2011, where she continues to record and tour the world with her piano trio and other all-star configurations. 
More Info: kristinkorb.com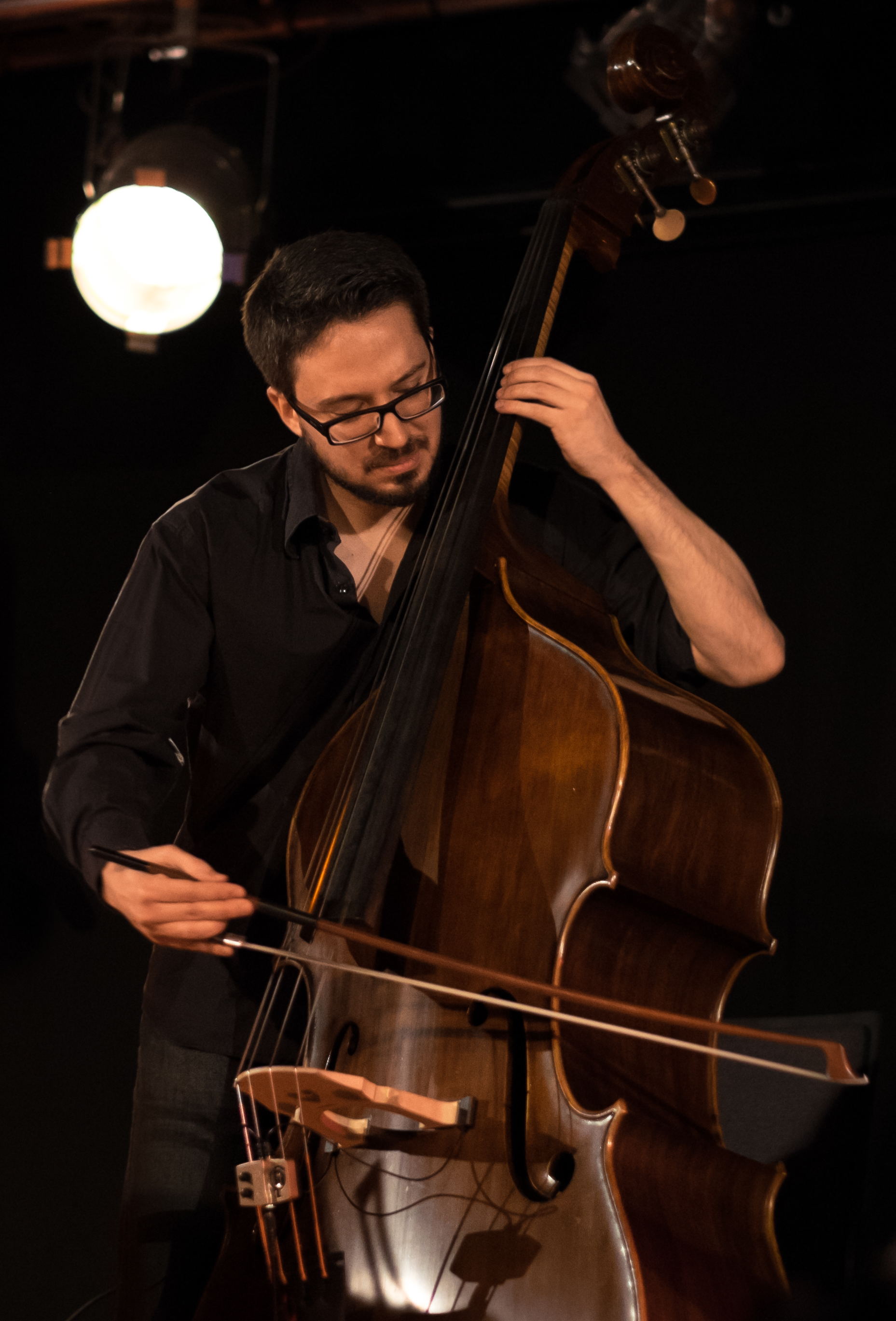 Emilio Yepes-Martinez started playing the double bass at the age of eight. He studied with Ludwig Streicher, Rainer Zepperitz and Antonio García at the renowned Reina Sofía in Madrid. He continued his training with Esko Laine at the Hanns Eisler University of Music in Berlin and worked at a young age as a solo bassist for the Gustav Mahler Youth Orchestra with well-known conductors and soloists.
Emilio Yepes-Martinez has been a member of the Munich Philharmonic Orchestra since 2008 and has devoted himself intensively to his concert activities ever since. As a soloist, he performs with various orchestras across Europe.
He is also in demand internationally as a teacher. In addition to teaching at various master classes, Emilio Yepes-Martinez is working with the Central American Youth Orchestra to promote young talents. Yepes-Martinez has been a lecturer at the Bavarian Bassdays since 2014.
Emilio Yepes-Martinez is a member of the Bayreuth Festival Orchestra since 2019.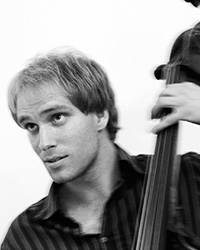 Philipp Stubenrauch works as principal double bass with the "Symphonieorchester des Bayerischen Rundfunks".
He started playing the double bass at the age of 13 and shortly after he won twice the first national prize of the competition "Jugend Musiziert". After working classes with Günter Klaus and Franco Petracchi he was the first solo double bass player with 25 years at the "Symphonieorchester des Bayerischen Rundfunks". Under chief conductor Mariss Jansons he performed the double bass concert from J.B. Vaňhal in 2009. Philipp is also an instructor at the "Bayerisches Landesjugendorchster", the Schleswig-Holstein Music Festival and offered already master classes in Brazil, Spain, Tokyo and Beijing. He was performing and teaching at the Bavarian Bassdays as a soloist and professor several times.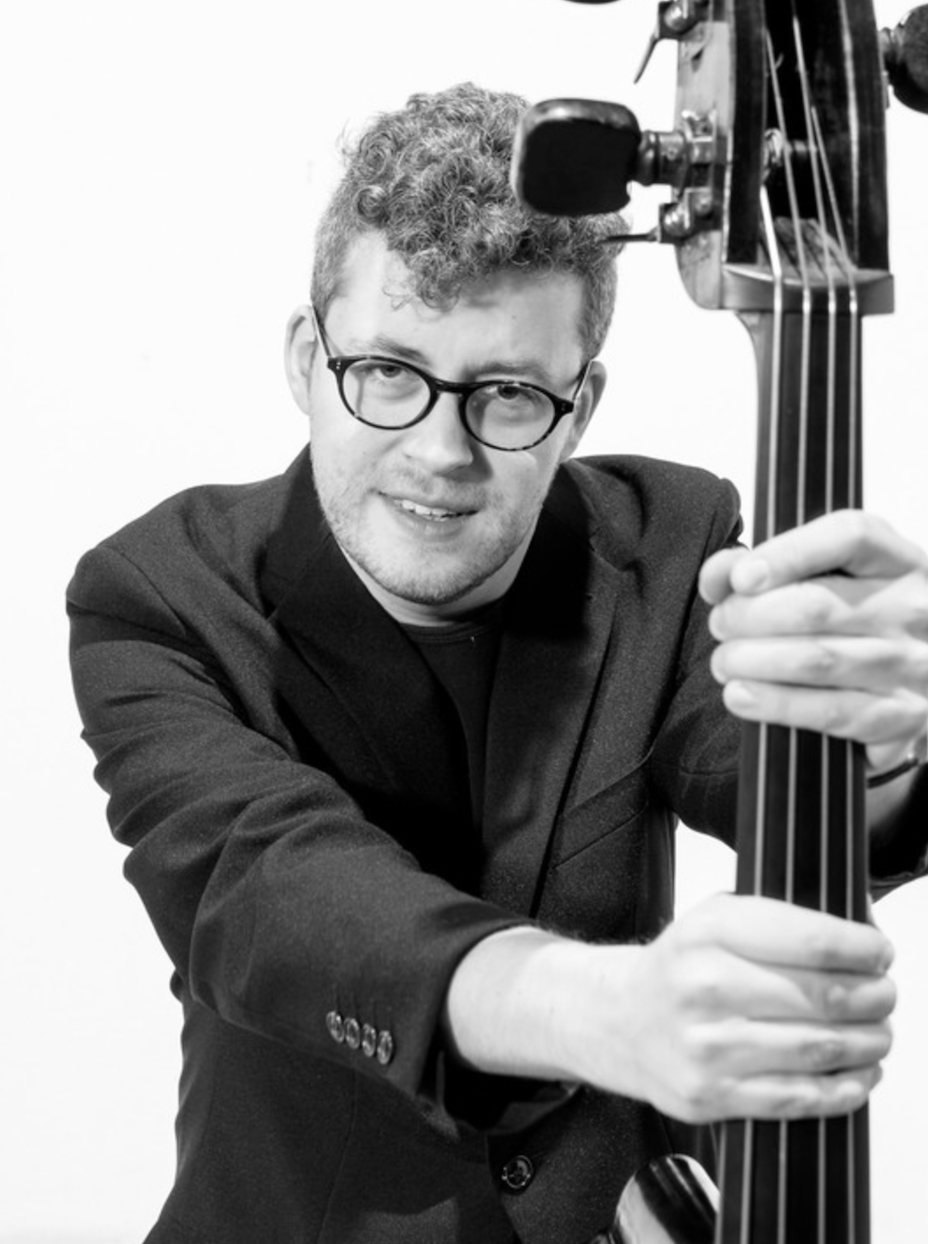 Thomas Hille was born in Deggendorf, Germany, in 1990. He was introduced to the world of music early on, and he began playing the piano at the age of five. In 2006, he discovered the double bass and, after just one year with the instrument, became a member of the Bavarian Youth Orchestra. At the time, he was attending the Hochschule für Musik und Theater (University of Music and Performing Arts) in Munich, where he had double bass lessons with Prof. Klaus Trumpf.
In 2009, he began studying under the tutelage of Prof. Dorin Marc in Nürnberg. Around the same time, he became a member of the Young German Philharmonic Orchestra. In 2012, Hille was runner-up at the Johann Matthias Sperger Double Bass Competition, where he also won the audience award and the award for the best interpretation of a Sperger sonata. 2014 saw him receive the Culture Award from his hometown. Hille has had solo concerts with renowned orchestras such as the Symphony Orchestra in Nuremberg, the Neue Lausitzer Philharmonie, and the Rheinische Philharmonie in Koblenz.
He graduated from the Nuremberg conservatory with honors and has had master classes with Božo Paradžik, Catalin Rotaru, and Yasunori Kawahara. Since 2013, Hille has performed in the Orchestra Academy and also as a member of the double bass section of the Munich Philharmonic Orchestra. He has also performed concerts for the Bavarian Radio Symphony Orchestra, the WDR Symphony Orchestra, and the Munich Symphonic Orchestra.
In 2016, he became the principal bass player at the Gärtnerplatz State Theatre in Munich. Since Summer 2016, he has gained experience with modern takes on chamber music as a member of the Bassmonsters.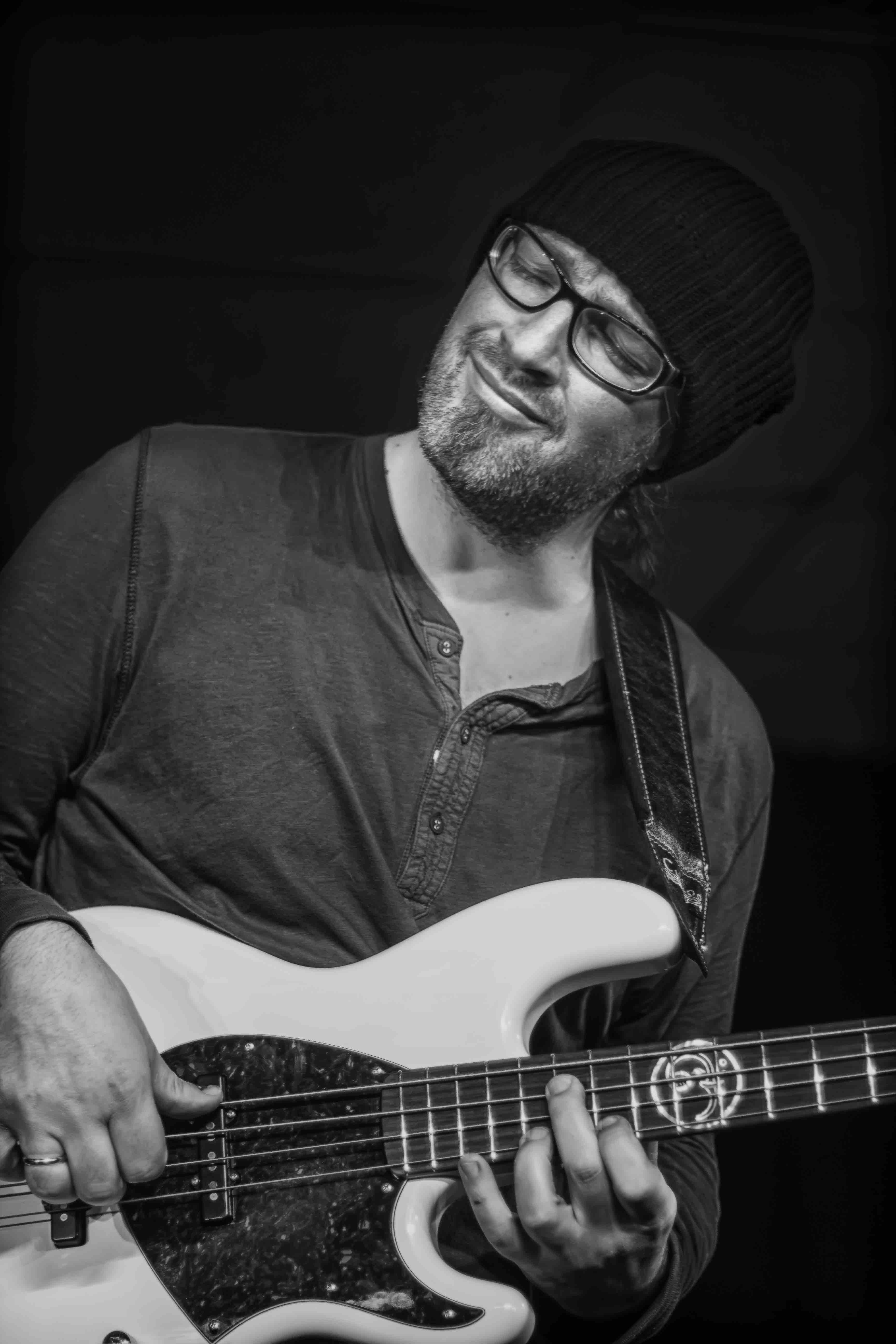 When Markus was still in high school the school band was looking for a bass player. Markus really wanted to play keyboards, but he was anxious to join the guys and play his heart out. The days of piano sonatas were over… Markus decided to pick up the bass and since then he has been deeply in love with the instrument.
He started learning with old Led Zeppelin records trying to translate the lines on the still somewhat unfamiliar fretboard. He continued to transcribe pretty much everything he could get his hands on. Transcribing from recordings was the best training he could possibly get. He slowly incorporated many of the coolest licks by his idols into his own repertoire. In addition to Jaco Pastorius, Marcus Miller, John Patitucci and Geddy Lee his inspirational roots are musicians like Chick Corea, John Scofield, Charlie Parker, Stu Hamm and many more.
Markus' dream crystallized later on – to form a duet with a female singer. Sabine Reimer made this dream come true. With Sabine by his side, Markus was able to transform everything that came out of him into music. To accompany her tunes was such a great pleasure and his bass arrangements evolved naturally. In return, she blessed his bass compositions with beautiful vocal lines which he could have never dreamed of. Check out Reimer Setzer on the web.
In 2008, Markus founded the Bass Academy to teach students and prepare them for the business as open minded bass players. The German music press calls him "the bass instructor of the nation" because he gives so many clinics and master classes all over the country.
In 2013, Markus released his first solo album '_shades'. One of the reviews says:
"Uncommon for bass as a musical instrument Setzer takes the term solo literally. Together but alone with the bass an intimate vicinity is created. With his ears directly in the sound-sculpting process the auditor can hear countless sounds created by fingers on strings. Six baladesque compositions touch with openness and depth. An artist who opened his heart and soul. In contradiction to the faster, higher, further paradigm of the nowadays society the auditor will be decelerated by Markus Setzer. The electrifying dynamics will shake every woofer. A real archaic experience of sound! Even HiFi nerds will encounter an audible highlight."
More info: markussetzer.com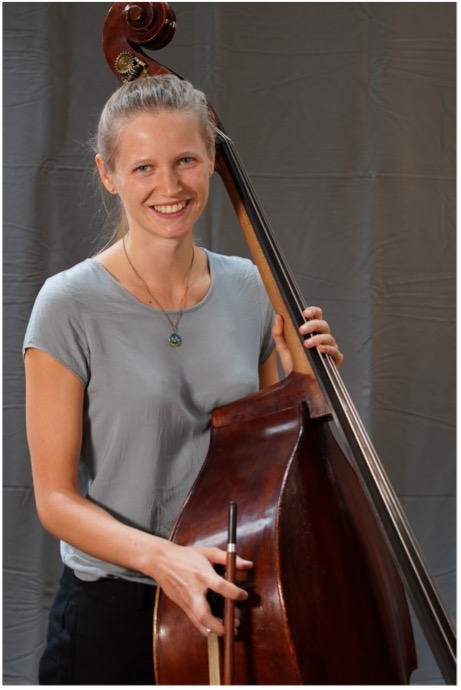 Anna Stelzner (*1993) has studies double bass, percussion and piano since her childhood. She studied Pedagogy and Mathematics in Freiburg and double bass with Prof. Gottfried Engels in Cologne and Prof. Božo Paradžik in Freiburg. Next year, she will finish her Master´s Degree with Prof. Božo Paradžik. 
Anna Stelzner won a scholarship to the Musikschule Neuss and was member of the Studienstiftung des deutschen Volkes.
Anna Stelzner has played with several orchestras and ensembles such as Studio MusikFabrik Köln, Das Junge Orchester NRW, Sinfonieorchester Crescendo, Neusser Kammerorchester and Ensemble Scope. She has won several prizes with different instruments at Jugend Musiziert.
Since 2013, she has been an in-demand teacher at double bass-workshops in Germany. Beside her studies, she is teaching double bass in Freiburg and is founding member of Pädagogische Arbeitsgemeinschaft Kontrabass Deutschland e. V.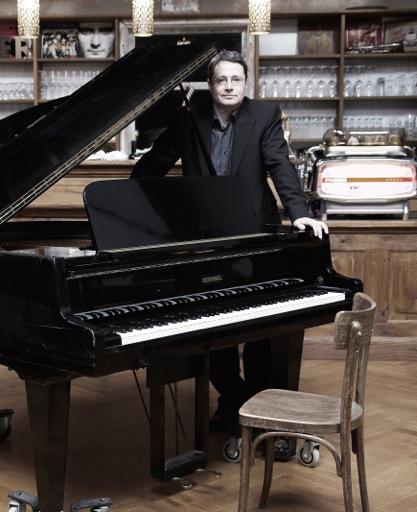 Thomas Hartmann began his studies at the Richard Strauss Conservatory in Munich in 1986 with Benedikt Koehlen (piano) and Elmar Schloter (organ) and graduated in 1990 with the music licensing exam. He has also been in master classes with Jürgen Uhde, Ferenc Rhados (piano) and Christian Rieger (harpsichord). In 2000, Liselotte Orff awarded him the Carl Orff Medal.
As a chamber music pianist in various ensembles (Ensemble Amphion), as a sought-after duo partner and song accompanist, he is always a sympathetic and impulsive musician.
In recent years, he has increasingly dealt with the performance practice of "old music" and playing on historical instruments (harpsichord, clavichord). As a pianist and harpsichordist, he is regularly heard at renowned festivals such as the Traunstein summer concerts or the Chiemgau music spring.
He was able to live his passion for jazz and improvised music in the jazz formations "Nimm Dry", "Bellman Band", "Hartmann-Karger-Schöftenhuber Trio" and in the Spanish rock ensemble "All Extasy". As keyboardist for the band "Crush" and the band "Baby Palace" (which won the German Rock and Pop Award in 2002), he provided hot piano grooves and atmosphere at rock concerts and festivals. In 2008, he played keyboards for a musical production at the Deutsches Theater, Munich.
In the field of solo piano, he feels especially committed to modern, jazz-inspired, classical, and contemporary music (collaboration with Ambitus – group for new music). In addition to his work as a pianist, he also performs as an organist as a soloist and in chamber music ensembles.
A multitude of "Jugend musiziert" award winners, professional musicians, as well as passionate amateur musicians produced his pedagogical work as a piano teacher at the music school Traunreut and as a private teacher.
His extensive compositional oeuvre ranges from symphonic works (solo concerts), a variety of chamber music ensembles (from duo to dectet) to jazz band compositions to music theater productions. In the meantime, his works are being presented at well-known festivals such as Chiemgau Music Spring, Traunstein Summer Concerts, Upper Bavarian Culture Days and Jazzweekend Regensburg.